Product Description
Integral Pilot T Series 1 Inch CA25T
Pulse Jet Valve CA25T is a kind of solenoid valve (Diaphragm Valve) designed for Dust Collector Pulse Cleaning System, it is made of die cast aluminium valve body and 430 FR stainless steel plunger assembly and copper solenoid coil. The port size is 1 Inch, suitable for dust collector applications, in particular for reverse pulse jet filter cleaning and its variations, including bag filters, cartridge filters and envelope filters, ceramic filters and sintered metal fibre filters.
CA25T Pulse Valve Diaphragm/Solenoid Activation
Dust Collector Pulse-Jet Valve Operating Sequence:
1. Differential pressure (DP) builds across the filter bags/cartridges as dust load increases in the collector.
2. Once DP reaches a pre-set point, the pulse-jet cleaning system is activated to go through a cleaning sequence/cycle, as programmed in the timer board or other controller.
3. The timer board (or other controller) then sends an electrical signal to the pilot solenoid valve(s), causing the coil to energize, thus pulling the valve plunger into the open position allowing the compressed air in the pneumatic line to bleed to atmosphere. (NOTE: The pilot solenoid valve can be direct-mounted (mounted directly on top of the diaphragm valve, or it can be remote-mounted (mounted in a solenoid enclosure separate from the diaphragm and connected with pneumatic tubing, as shown above.)
4. Bleeding the compressed air line to atmosphere causes an imbalance in air pressure within the diaphragm valve. In other words, the air pressure suddenly drops on the top-side of the diaphragm valve as the pneumatic line is bled to atmosphere.
5. The change in pressure difference within the diaphragm valve causes the compressed air manifold (compressed air tank) to force the diaphragm up from its seat, thus allowing compressed air to bypass the diaphragm and be expelled into the blow-tube. The [pulse" of compressed air then blows the dust off of the filter bags/cartridges.
6. The coil is quickly de-energized which causes the plunger to return to the closed position. Compressed air then bleeds through the diaphragm valve until the point where pressure is equalized on both sides of the diaphragm. Equalization of air pressure inside the diaphragm causes the diaphragm to reseat (return to closed position). The pulse cycle is then completed.
Pulse Cleaning System Components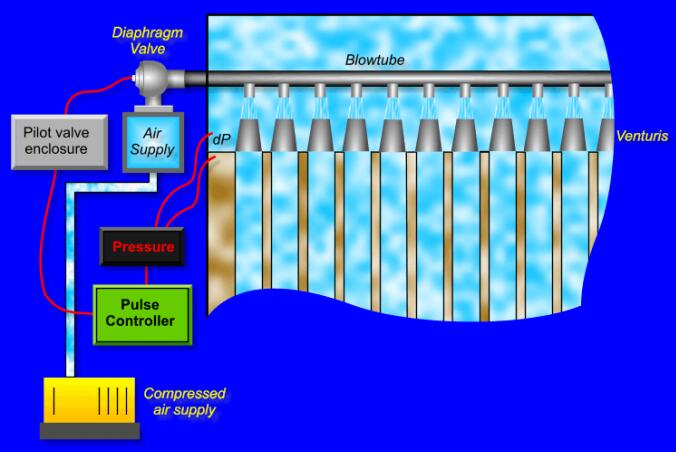 Diaphragm Valve CA25T Operation: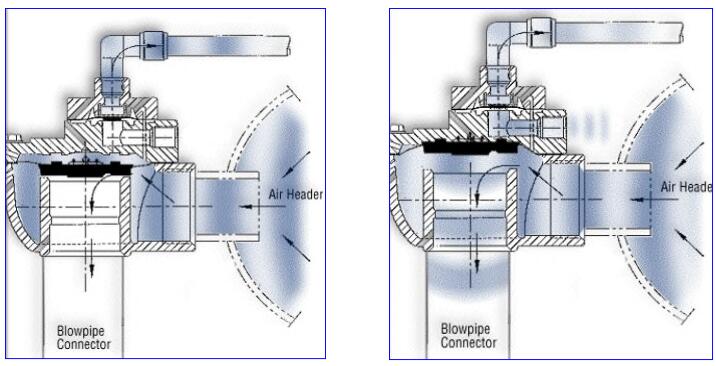 Mechanical Details of Goyen Type Pulse Valve CA25T:
| | | |
| --- | --- | --- |
| No. | Description | Standard material |
| 1 | Body and Cover | Aluminium die cast CA313 |
| 2 | Bleed pin | Turned aluminium |
| 3 | Diaphragm ass'y | Buna N / Buna N Rubber |
| 4 | Springs | 304 stainless steel |
| 5 | Screws | 304 stainless steel |
| 6 | O rings | Buna N / Nitrile |
| 7 | Plunger Ass'y | 430 FR stainless steel |
| 8 | Ferrule / Iron top ass'y | 305 stainless steel |
| 9 | Coil arrgmnt | 130 rated nylon encapsulation |
| 10 | washer | pressed aluminium |
| 11 | clip | mechanical plated steel |
Pulse Valve CA25T Dimensions: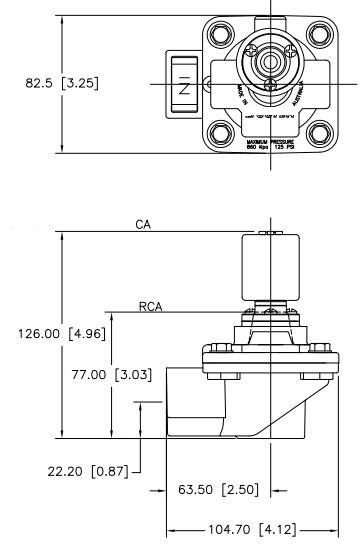 Pulse Valve C25T Installation:
1. Prepare supply and blowtube pipes to suit valve specification. Avoid installing valves underneath the tank.
2. Ensure tank and pipes are free from dirt, rust or other particulate.
3. Ensure supply air is clean and dry.
4, Mount valves to inlet pipes and blowtube to valves, ensuring no excess thread sealant can enter the valve itself.
5. Make electrical connections to solenoid or connect RCA pilot port to pilot valve (RCA valves only).
6. Apply moderate pressure to system and check for installation leaks.
7. Fully pressurise system.
8. Test fire and listen for proper actuation and crisp pulse noise.
More pulse valve and kits for your reference and order: